We announce the sudden passing away of one of the pioneering greats of Paediatric Nephrology in Côte d'Ivoire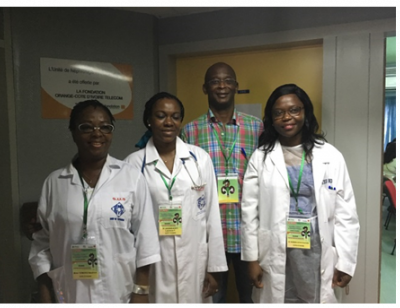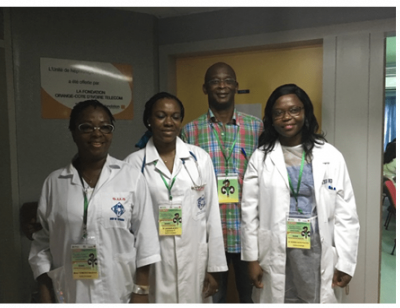 Laurence Adonis-Koffy died together with her husband and younger son on May 23rd, while they were jogging in Cocody (suburb of Abidjan, Ivory Coast). The driver was a young drunk man without a license.
She was 54 and she has left two children behind.
Laurence was a key person and one of the founders of pediatric nephrology in Africa. After training in Paris (Trousseau Hospital), she returned to Abidjan and started to develop pediatric nephrology which did not exist at all. She worked in Yopougon University Hospital with very limited resources; she went to unbelievable efforts to obtain national and international funding and used this incredible energy to build the very first pediatric renal unit in her region (2009). Laurence progressively became a true leader, building a strong medical team, thanks to efficient links with patient associations, non-governmental organizations and politicians. She was a founding member of the African French-speaking network (2013), her department was recognized as IPNA training center in 2018, and on behalf of AfPNA, she was elected IPNA council member from 2019.
In September 2013 and June 2018, she organized IPNA teaching courses with international speakers and over 100 local doctors and nurses. She received the first IPNA World Kidney Day grant in 2015. In addition, just 48 hours before her untimely passing, she was discussing with her AfPNA colleagues, plans for the AFRAN/AfPNA congress to be held in December 2021 in Abidjan, that she was actively preparing.
Laurence Adonis-Koffy was professor of pediatrics and the director of the medical pediatric department at Yopougon University Hospital. Her hospital team included 5 physicians, and 11 allied professionals, devoted to hemodialysis and clinical pediatric nephrology. She was a passionate teacher and had more than 34 published articles.
More recently, she launched herself into a new challenge relating to infant mortality, working on maternal and fetal emergencies; by organizing the first seminar on this topic with a commitment from the authorities for 4 years of training.
Her power of persuasion was always present, as well as her love for medical and social development in her country, which led her to initiate training by simulation, the first experience in Ivory Coast and a model for others. Her wisdom allowed her to overcome the majority of obstacles and help others in her role as unifier.
She was a role model for all those who knew her, an outstanding children's ambassador to institutions, and an unforgettable magician for kids and parents. Her smile was ever-present.
We miss her. Kids miss her.
Pierre Cochat, Charlotte Niamien-Attaï, Hesham Safouh, Amal Bourquia, Mignon McCulloch